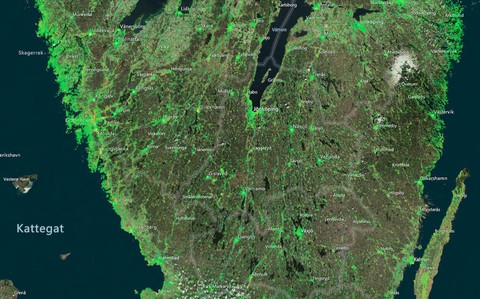 Open Sättningskartan
The Settlement Map over southern Sweden
In some parts of Sweden, the ground is moving. This depends on a combination of complex phenomenon, including land uplift, soil stability, climate and human interaction, such as lowering ground water, moving land masses, construction etc. When the ground is moving, our infrastructure (roads, rail roads, buildings, tunnels, bridges etc.) is affected. All infrastructure must be managed and sooner or later they will reach the end of their life time and need to be replaced or strengthened. But where to start?
Geodesy
For sustainability and safety reasons, it is important to be able to measure and supervise both ground movements and displacement of objects. This is performed with various methods within the scientific field of geodesy.
Monitoring of movements is traditionally performed though various types of field work where individual points are measured on-site. But the measurements can also be performed at large scale via remote sensing from space, with millimeter precision. Radar satellites emit signals towards the earths surface and collect the reflections, which can be used to compute the position of points on the ground by measuring displacement via phase differences in the reflected radar signal from different occasions. GNSS  and gravity parameters are used to compute the satellites position in relation to the earth surface.
What does the Settlement Map show?
The Settlement Map Sättningskartan is an interactive web map service where the user can zoom in to view the vertical displacements of billions of individual measuring points, indicated in the map with a color scheme. The color scheme shows displacement rate per year and is extracted from the individual measures of each point during the time series. The color scale can be adjusted to show more or less details. By clicking a point, each measurement during the time series for that specific point is shown, in this case from March 2017 until March 2021.
Who created Sättningskartan.se?
Sättningskartan is a collaboration project between the remote sensing company SkyGeo and the technical consulting company WSP Sweden 
By clicking the link below, you can open the Settlement Map Sättningskartan
WSP         
WSP is a global consulting firm with broad expertise within fileds such as civil engineering, sustainability, geodesy, measuring techniques, construction and infrastructure. WSP is in this project responsible for providing local insights in the Swedish market and local conditions, as well as handling the contact towards the users and clients on the market.
SkyGeo                
SkyGeo is a remote sensing company, with broad expertise within differential InSAR. SKyGeo is responsible for all data processing, visualisations and web services in the project. SkyGeo converts complex InSAR-data to practically applicable and reliable information, to support responsible and safe politics and infrastructure management.
An established cooperation
WSP and SkyGeo has several years of collaboration within the InSAR field and have developed experience in the client needs and the capacity of the technique. Together, we have shaped the content of Sättningskartan and together we will continue to help our clients to adapt and fine tune data processing for their specific needs, within all areas.
By clicking the link below, you can open the Settlement Map Sättnignskartan